Mike Greenstein, PwC's Global Alternative Asset Management Leader, and Andrew Thorne, US Asset Management Partner, discuss how we see the alternative asset management landscape evolving as we near 2020.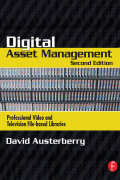 Digital Asset Management
The second edition focuses on the media and entertainment sector (M&E), with more information relevant to encompass broadcasters migration to file-based production. New technology and new products are also included and there is more detail on systems integration and product examples, plus extra case studies. New content includes: - Storage management where several products have been designed for the special needs of the media business. - XML and web services. - New case studies.
sourcing,cyber,security,technology,retail,firms,business,mike,green,asset,management,world
assets,economic,drive,global,trends,growth,alternatives,management,report,business,managers
channels,marketing,distribution,investor,retail,build,buy,borrow,product,offering,distribution,customization
investors,solutions,capital,vehicles,equality,industrial,strength,investors,businesses,resources,organizational